Newsroom
Talkdesk announces exclusive offers from AppConnect partners ProcedureFlow, Krisp and Jabra.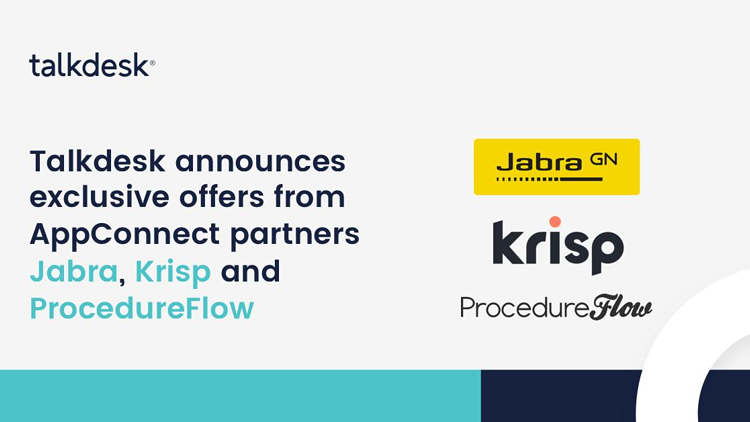 Talkdesk® announced exclusive offers from AppConnect partners ProcedureFlow, Krisp and Jabra to help businesses successfully navigate work-from-home challenges brought on by the COVID-19 pandemic. These offers are designed to ensure remote employees are productive, efficient and equipped with the right tools to deliver consistently high-quality service.
ProcedureFlow: Three months of free access.
ProcedureFlow is a reimagined contact center knowledge base that makes the most complicated information easy and intuitive to create, maintain and use. It provides every employee with the exact information they need to handle any contact scenario, making employees confident in their abilities from day one.
Offer valid through July 31, 2020
Krisp: 30% discount, plus six months unlimited access to students, teachers, hospitals and government workers.
Krisp offers a noise-canceling app that removes background noise from both ends of a call. In today's work-from-home environment, background noise is unpredictable and often unavoidable. Krisp helps ensure higher quality voice interactions with customers so agents sound professional and stay productive.
Offer valid through September 1, 2020
Jabra: Receive free Jabra headsets with qualifying purchase.
Jabra provides professional audio and video solutions to connect teams across locations and around the world. Jabra's professional audio tools include corded and wireless headsets and earbuds and portable speakerphones, helping the remote worker concentrate, collaborate and maintain productivity in the home office. Jabra's professional range of headsets deliver superior sound and call quality, and help eliminate distracting background noise for a more focused work environment.
Offer valid through December 31, 2020
Executive Quote:
"With one-click access and 30-day free trials, Talkdesk AppConnect helps enterprises rapidly adopt new technology to adapt to changing customer needs. Now, in conjunction with best-in-class technology partners, Talkdesk launches three new offers in AppConnect to help organizations adjust to the new, complex work-from-home environment with support tools for agents and ensure consistently high-quality customer service."
– Dave Richards, head of AppConnect partnerships and operations, Talkdesk
For more information, visit Talkdesk AppConnect webpage.
About Talkdesk
Talkdesk® is a cloud contact center for the customer-obsessed. Combining enterprise performance with consumer simplicity, Talkdesk easily adapts to the evolving needs of sales and support teams and their end-customers, resulting in higher customer satisfaction, productivity and cost savings.
Talkdesk is a registered trademark of Talkdesk, Inc. All product and company names are trademarks™ or registered® trademarks of their respective holders. Use of them does not imply any affiliation with or endorsement by them.
About ProcedureFlow
ProcedureFlow is a next-generation knowledge management SaaS product designed to help organizations visualize their processes and procedures and empower teams to access updated information while meeting compliance requirements.
For more information, visit procedureflow.com or follow us on social media @ProcedureFlow.