Newsroom
ProcedureFlow Raises $11.8 Million Funding Round to Accelerate its Mission of Making Employees Experts Faster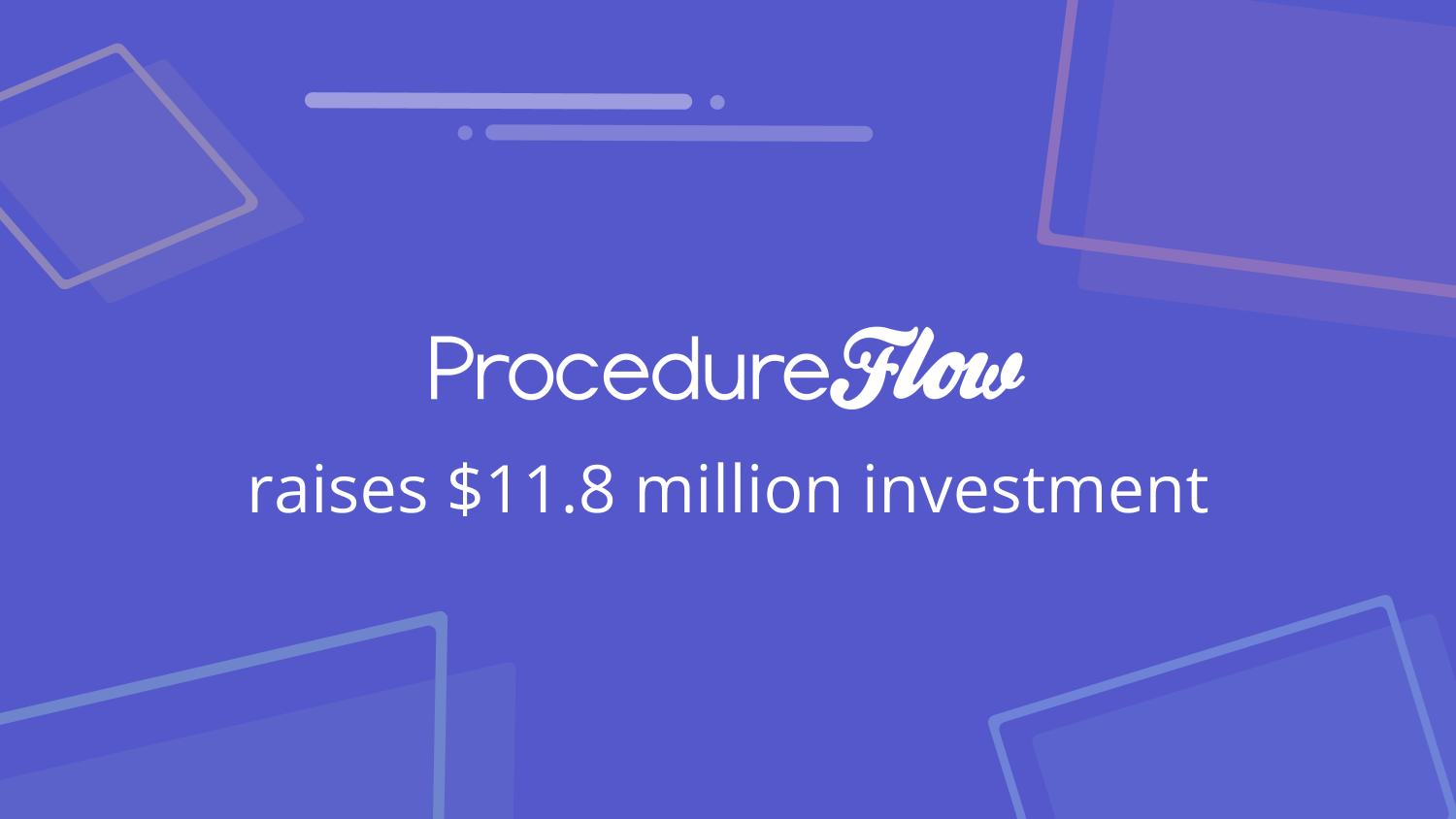 ProcedureFlow, the next-generation knowledge management software, announced today an $11.8 million investment led by Canadian Business Growth Fund (CBGF). This investment will accelerate the software company's mission of helping employees reach proficiency faster.
The investment round was led by CBGF, a leading Canadian minority growth capital fund. This round also includes funding from new investor Sandpiper Ventures, along with current investors, BUILD Ventures, BDC Capital's Women in Technology Venture Fund, Innovatia, New Brunswick Innovation Foundation (NBIF), and ProcedureFlow employees.
In a world where businesses need to scale quickly, access to expert knowledge has become crucial. Organizations need a better way of documenting processes and information while ensuring that knowledge is accessible to all employees. By doing so, they can help boost employee performance from day one and enable their teams to deliver consistent and efficient results across the entire enterprise.
"CBGF is proud to partner with Daniella and the ProcedureFlow team, marking the fund's first investment in a New Brunswick-based business. We look forward to supporting the team as they execute on their bold plans for growth," says George Rossolatos, CEO of CBGF.
"We are thrilled CBGF and Sandpiper Ventures are joining us on our mission of making employees experts faster," says Daniella Degrace, CEO at ProcedureFlow. "In today's hybrid and remote working environment, employees need access to accurate information at the right time, every time. That's why ProcedureFlow digitizes company operations and transforms processes into a highly consumable, visual, and easily updatable format. This is the future of enterprise knowledge management."
The $11.8 Million funding will accelerate ProcedureFlow's goal of revolutionizing procedural knowledge management across the globe.
Over the last 4 years, ProcedureFlow has grown its user base by 600%, serving customers across a variety of industries including banking, financial services, insurance, healthcare, telecommunications, utilities, and government 311 centers.
About ProcedureFlow
A Knowledge Management software uniquely designed for the modern workplace. ProcedureFlow simplifies the way employees navigate organizational processes to accelerate proficiency. Our improved process flows allow you to create, organize, update, share, and track procedures for easier end-to-end management.
ProcedureFlow digitizes your operations to create a single source of truth for company processes. This allows employees to access the information they need in a highly consumable, visual, and easily updatable format. With ProcedureFlow, companies can create a high performing culture by improving training and proficiency and boosting employee confidence from day one.
Follow us on LinkedIn | Learn more: https://procedureflow.com/
About CBGF
The Canadian Business Growth Fund (CBGF) provides long-term, patient, minority capital to ambitious entrepreneurs to fund growth and expansion of mid-market businesses with investments between $3 to $20 million. An evergreen investment fund with capital commitments of $545 million, CBGF is committed to long-term partnerships with the companies it invests in. As part of its mission to drive growth, CBGF connects business leaders and sector experts to help its partner business achieve their full potential. For companies seeking investment opportunities, please email us at contact@cbgf.com. To learn more, please visit us at www.cbgf.com
---
For more information or to request an interview, please contact:
Stephanie Gomez
Vice President, Marketing
Stephanie.gomez@procedureflow.com