Newsroom
ProcedureFlow opens new office to support rapid growth.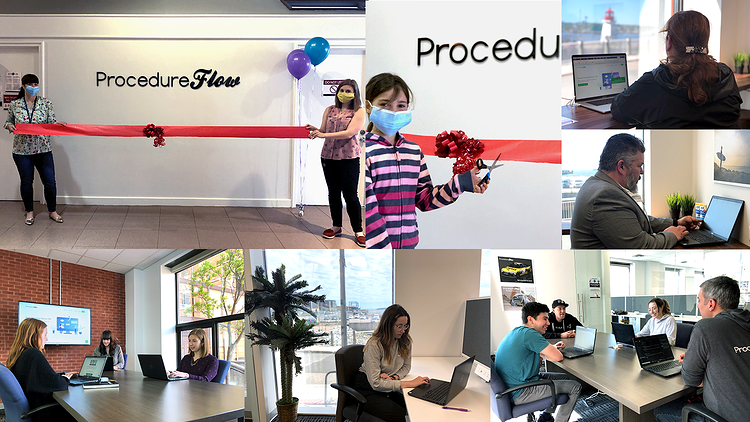 ProcedureFlow, a revolutionary knowledge management solution announces today the official opening of their new office in Saint John, New Brunswick.
ProcedureFlow's new office serves to accommodate the rapid growth of their team who, in the past 12 months has expanded by 75%. With a continually growing customer base and new team members joining from across North America, CEO Daniella DeGrace anticipates this trend of growth to continue into 2021 and beyond.
"This marks an important milestone for our business that signifies just how far we've come in such a short amount of time" says DeGrace. "Now as a global company with customers and employees around the world, we are thrilled to have a new modern and creative space that encourages collaboration and innovation."
The new space was designed as an open concept office fit with real brick, floor to ceiling glass walls, and views onlooking the ocean and lighthouses.
"The anticipation of our new office has built up a great deal of excitement among our team. We are thrilled to be working in a beautiful open space that reflects the uniqueness of our company and product."
With several restrictions still in place due to COVID-19, ProcedureFlow will be allowing employees to enter in the new space on a rotating basis to maintain necessary physical distancing measures. DeGrace says that during this time the health and safety of employees remains the number one priority of ProcedureFlow.
"Despite the challenges of COVID-19 we have continued to not only grow but thrive. ProcedureFlow has become the essential tool for organizations during this crisis, opening the door for many new opportunities. We are grateful that our product can make a difference during this difficult time, and are proud that we have been able to support employees in organizations around the world."
About ProcedureFlow
ProcedureFlow is a next-generation knowledge management SaaS product designed to help organizations visualize their processes and procedures and empower teams to access updated information while meeting compliance requirements.
For more information, visit procedureflow.com or follow us on social media @ProcedureFlow.