Newsroom
ProcedureFlow Integrates with AWS Connect and Genesys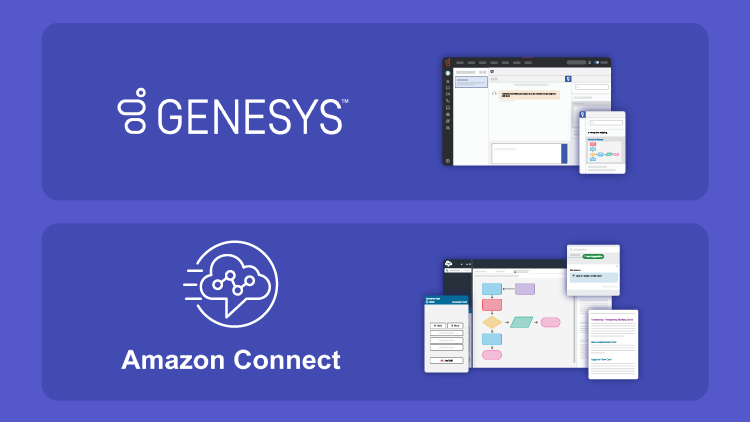 ProcedureFlow, the leading provider of visual knowledge management solutions, is excited to announce its seamless integration with telephony providers AWS Connect and Genesys. This groundbreaking collaboration is set to transform how contact centers engage with customers and resolve queries.
With ProcedureFlow's cutting-edge technology and the intelligent systems of AWS Connect and Genesys, agents can now analyze ongoing conversations and gain invaluable insights. These integrations identify critical instances where additional visual knowledge can significantly assist agents in delivering exceptional customer service.
AWS Connect transcribes customer calls with exceptional accuracy, providing a comprehensive record of interactions. Similarly, Genesys scans customer chats to understand the context of the request. ProcedureFlow then leverages this data to pinpoint the most relevant visual flow for the agent's immediate needs. This instant access to guided processes ensures that agents have the precise information required to navigate complex customer interactions with ease.
With the recommended visual flow at their fingertips, agents gain a powerful advantage in guiding conversations with precision and expertise. ProcedureFlow enables agents to navigate complex scenarios effortlessly, leading to faster problem resolution and increased customer satisfaction.
Solving Contact Center Pain Points
The integration of ProcedureFlow with AWS Connect and Genesys addresses critical pain points faced by contact centers. By providing real-time, visual conversation guidance, this collaboration empowers agents to deliver superior service in the following ways:
Increased Efficiency—Agents can instantly access processes, significantly reducing call handling times and increasing the volume of resolved queries.
Consistency in Service—Visual flows help guide agents to consistently follow best practices, ensuring a standardized and reliable customer experience.
Enhanced Agent Confidence—Empowered with comprehensive knowledge, agents approach each interaction with confidence and professionalism.
Optimized Customer Satisfaction—The guided conversation approach results in more accurate and informed responses, leading to higher customer satisfaction and increased loyalty.
Reduced Training Time—The intuitive nature of ProcedureFlow's visual guidance reduces training time for new agents, enabling faster onboarding and accelerating proficiency.
About AWS Connect
AWS Connect is a cloud customer contact center service that integrates with content repositories to make relevant knowledge readily searchable by agents, helping solve customer issues in real-time and improving agent productivity and customer satisfaction.
About Genesys
Genesys offers cloud customer experiences and contact center solutions, including a telephony service to help agents deliver proactive and hyper-personalized support that fosters customer trust and loyalty.
About ProcedureFlow
ProcedureFlow empowers agents with real-time access to visual knowledge during customer interactions, streamlining processes and enhancing overall performance. ProcedureFlow's commitment to revolutionizing contact centers has earned its recognition as an industry leader in guiding agents toward excellence and ensuring unparalleled customer experiences.
For more information about ProcedureFlow and our platform solutions, visit www.procedureflow.com.