Newsroom
ProcedureFlow and Carahsoft Partner to Bring Innovative Knowledge Management Software to the Public Sector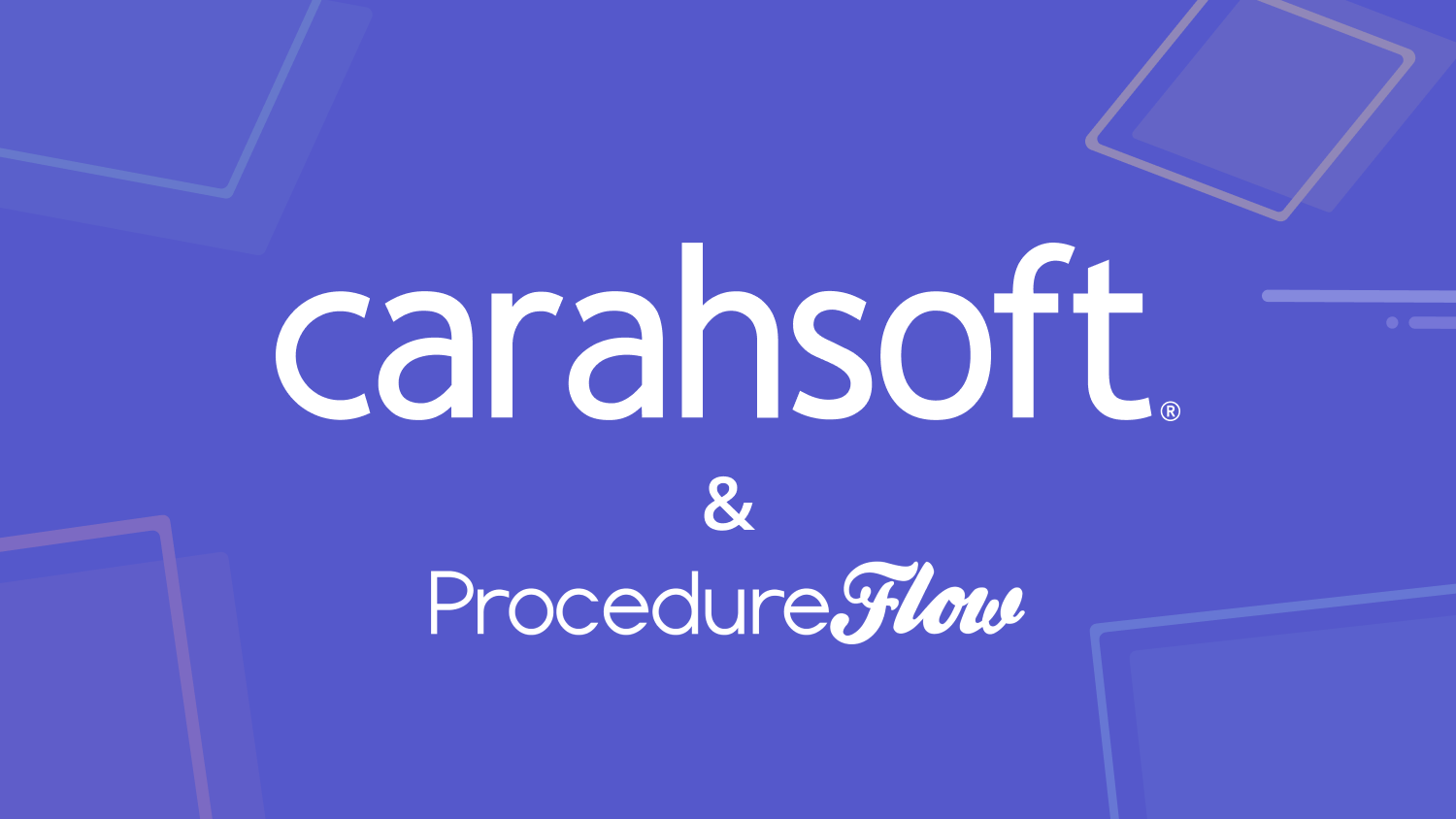 Source: GlobalNewsWire

SAINT JOHN, New Brunswick and RESTON, Va., Aug. 23, 2023 (GLOBE NEWSWIRE) -- ProcedureFlow, the next-generation knowledge management software, and Carahsoft Technology Corp., The Trusted Government IT Solutions Provider®, today announced a partnership. Under the agreement, Carahsoft will serve as ProcedureFlow's Master Government Aggregator®, making its platform available to the Public Sector through Carahsoft's reseller partners and National Cooperative Purchasing Alliance (NCPA), OMNIA Partners, E&I Cooperative Services Contract and The Quilt contracts.
"We are excited to work with Carahsoft and its extensive reseller partner network to expand our Public Sector customer base and increase our visibility in the market," said Dan Keddy, Sr. Director Partner Sales and Channel Management at ProcedureFlow. "The improved process visual flows that ProcedureFlow's knowledge management software provides will allow Public Sector customers to simplify their processes and promote efficiency within their organizations."
ProcedureFlow is a secure, cloud-based environment uniquely designed for the modern workplace that eliminates the need for traditional training methods, such as lengthy manuals or text-heavy documentation, and creates a single source of truth for all organizational information. By centralizing people, processes and technology, ProcedureFlow facilitates an integrated approach for identifying, capturing, evaluating, retrieving and sharing all information and processes in a visual manner, reducing barriers caused by traditional training methods.
ProcedureFlow's next-generation procedural knowledge management software simplifies the ways employees navigate processes and increase employee proficiency, while also providing employers insight into employee performance and quality adherence. Improved process visual flows give organizations the ability to create, collaborate, share and track procedures for easier end-to-end management and offer valuable insights that support the optimization of operational efficiency.
"We are excited to add ProcedureFlow's solutions to our portfolio and begin offering our customers access to its next-generation knowledge management software," said Zak Kennedy, Contact Center Solutions Leader at Carahsoft. "Government and Public Sector agencies are tasked with conveying massive amounts of information to their employees about a diverse array of topics on a daily basis. We look forward to collaborating with ProcedureFlow and our reseller partners to enable our Public Sector customers to transform their processes, improve efficiency and enhance public services they provide."
ProcedureFlow's solutions are available through Carahsoft's NCPA Contract NCPA01-86, OMNIA Partners Contract #R191902, E&I Contract #EI00063~2021MA and The Quilt Master Service Agreement Number MSA05012019-F. For more information, contact the ProcedureFlow team at Carahsoft at (877) 733-2007 or ProcedureFlow@carahsoft.com.
The Technology Training portfolio at Carahsoft offers industry-leading solutions that enable Public Sector customers to achieve digital transformation and utilize technology more efficiently. Carahsoft offers training programs and services that help the Public Sector stay current with IT trends and certifications to progress their agency's mission. Learn more about Carahsoft's Training Technology Solutions here
About ProcedureFlow
A Knowledge Management software uniquely designed for the modern workplace. ProcedureFlow simplifies the way employees navigate organizational processes to accelerate proficiency. Our improved process flows allow you to create, organize, update, share, and track procedures for easier end-to-end management.
ProcedureFlow digitizes your operations to create a single source of truth for company processes. This allows employees to access the information they need in a highly consumable, visual, and easily updatable format. With ProcedureFlow, companies can create a high performing culture by improving training and proficiency and boosting employee confidence from day one.
Contact
Stephanie Gomez
Vice President, Marketing
Stephanie.gomez@procedureflow.com
About Carahsoft
Carahsoft Technology Corp. is The Trusted Government IT Solutions Provider®, supporting Public Sector organizations across Federal, State and Local Government agencies and Education and Healthcare markets. As the Master Government Aggregator® for our vendor partners, we deliver solutions for Technology Training, Customer Experience, Cybersecurity, MultiCloud, DevSecOps, Big Data, Artificial Intelligence, Open Source and more. Working with resellers, systems integrators and consultants, our sales and marketing teams provide industry leading IT products, services and training through hundreds of contract vehicles. Visit us at www.carahsoft.com.
Contact
Mary Lange
(703) 230-7434
PR@carahsoft.com