Newsroom
73 Percent of contact center training to remain virtual post-pandemic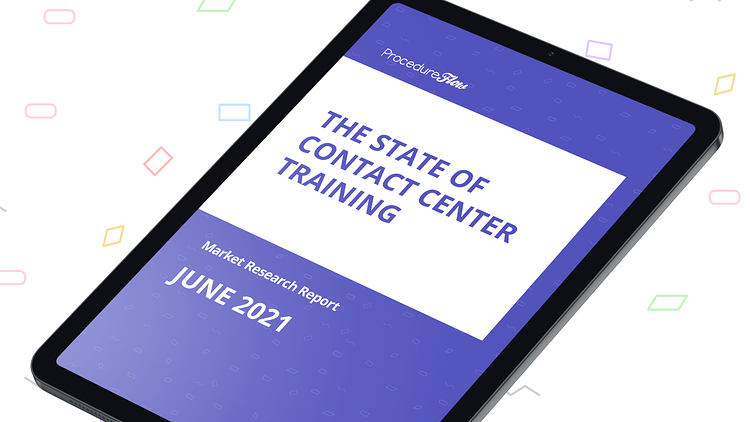 ProcedureFlow, a revolutionary knowledge management solution, conducted a study into the current state of contact center training in 2021. The survey targeted contact center leaders responsible for training and training resources, to answer questions such as: What is the true length of training and onboarding time? What are the greatest challenges and areas of improvement when it comes to training? What does the future of contact center training look like post-pandemic?
The study found that over half (55%) of contact centers take 6-12 weeks to complete training & onboarding for new agents. The challenge of long training and onboarding times became evident when survey respondents were asked about speed to proficiency. Over a third of contact centers stated that it takes between 5-7 months for new agents to reach proficiency. Furthermore, contact center leaders listed "helping agents reach proficiency faster" as the greatest area of improvement in their training program.
"The demand for shorter training times and improved onboarding experiences is proven through our recent Market Study," says ProcedureFlow CEO Daniella DeGrace. "We're happy to be able to play a part in helping contact centers better prepare their agents, and reach proficiency faster".
When it came to remote training, 73% of respondents said that at least portions of their training will remain virtual post-pandemic. To learn more about the current and future state of contact center training, download the full report, available now.
About The Analyst Agency
ProcedureFlow teamed up with The Analyst Agency to conduct market research. The Analyst Agency is an operations & strategic consulting firm with locations in Buffalo, Toronto, & Mumbai that provides comprehensive qualitative and quantitative market research, business analysis, marketing, and technology advisory services for a large variety of clients in a number of diverse industries, including advertising agencies, banking and financial services, healthcare companies, real estate and construction developers, law firms, and more.
About ProcedureFlow
ProcedureFlow is a next-generation knowledge management SaaS product designed to help organizations visualize their processes and procedures and empower teams to access updated information while meeting compliance requirements.
For more information, visit procedureflow.com or follow us on social media @ProcedureFlow.