Newsroom
ProcedureFlow wins $5,000 for charity in Talkdesk Digital Showdown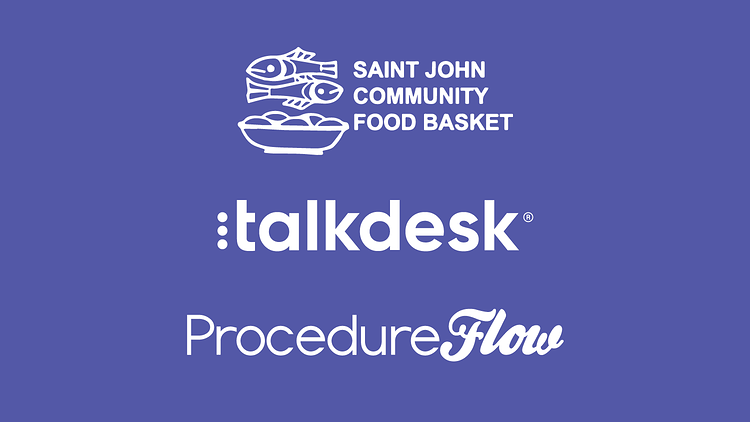 ProcedureFlow, a revolutionary knowledge management solution, is thrilled to announce that it was recently named a finalist in Talkdesk's Digital Showdown winning $5,000 for the Saint John Community Food Basket.
Talkdesk's Digital Showdown, held on May 26, 2021, gives six organizations in the Talkdesk Partner Ecosystem the chance to showcase their product in front of a live audience all while competing for a charity of their choice. Each participating organization receives three minutes to demo their product and a live vote from the audience determines the finalists and winner. Each participating partner's charity receives $1,000, with the runner-up's charity receiving $5,000 and the ultimate winner (as determined by the audience) receiving $10,000 to their charity. On May 26th ProcedureFlow was selected as a finalist and their charity of choice, The Saint John Community Food Basket, will receive $5,000.
"Giving back to our community is core to ProcedureFlow's values which is why we were so excited to participate in Talkdesk's Digital Showdown" says ProcedureFlow CEO Daniella Degrace. "With headquarters in New Brunswick we selected the Saint John Community Food Basket as our charity of choice because of their direct impact on our community. We are honoured to be selected as a runner up in Talkdesk's Digital Showdown and would like to congratulate all other participants!"
About TalkDesk
Talkdesk® is a global customer experience leader for customer-obsessed companies. Our contact center solution provides a better way for businesses and customers to engage with one another. Our speed of innovation and global footprint reflect our commitment to ensure businesses everywhere can deliver better customer experiences through any channel, resulting in higher customer satisfaction, cost savings and profitability. Talkdesk CX Cloud™ is an end-to-end customer experience solution that combines enterprise scale with consumer simplicity. Over 1,800 innovative companies around the world, including IBM, Acxiom, Trivago, and Fujitsu partner with Talkdesk to deliver a better way to great customer experience. Learn more and request a demo at www.talkdesk.com.
Talkdesk is a registered trademark of Talkdesk, Inc. All product and company names are trademarks ™ or registered ® trademarks of their respective holders. Use of the does not imply any affiliation or endorsement by them.
About ProcedureFlow
ProcedureFlow is a next-generation knowledge management SaaS product designed to help organizations visualize their processes and procedures and empower teams to access updated information while meeting compliance requirements.
For more information, visit procedureflow.com or follow us on social media @ProcedureFlow.